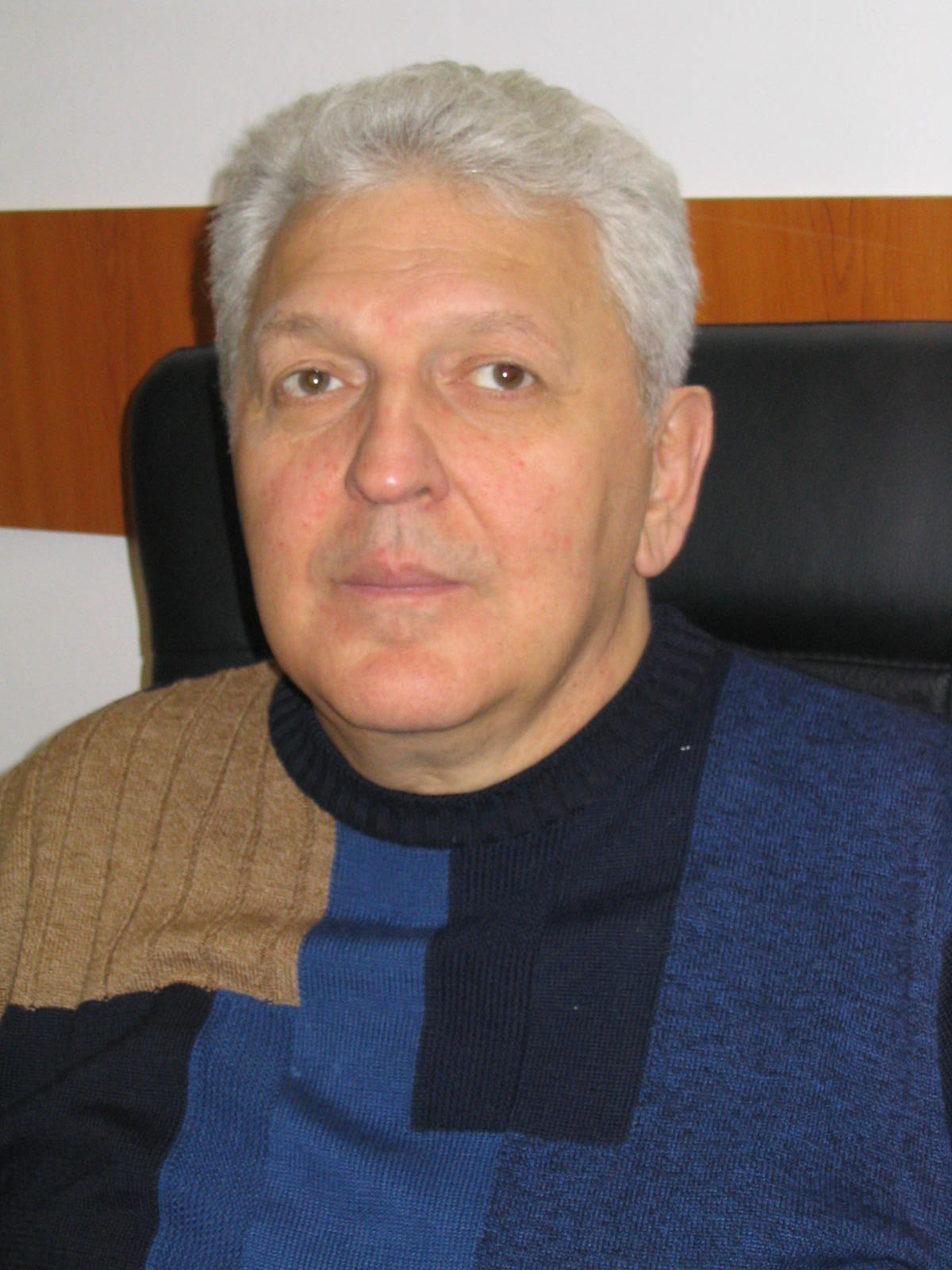 Ion Mihailescu
Affiliation and official address
Laser-Surface-Plasma Interactions Laboratory, Lasers Department
National Institute for Lasers, Plasma, and Radiation Physics (INFLPR),
Strada Atomistilor, nr. 409
P.O. Box MG-54 RO-77125,
Magurele, Bucuresti
ROMANIA
Phone: +40 (0) 21 457 44 91
Fax: +40 (0) 21 457 42 43, 457 44 67
ion.mihailescu@inflpr.ro
http://lspi.inflpr.ro/
Date and place of birth
May 30, 1947; Slatina, Olt, Romania
Nationality
Romanian
Education
July 1982 Received Ph.D. from the Central Institute of Physics, Bucharest; Ph.D. thesis: "Interaction of 1.06 mm laser radiation of ms duration with metallic targets in vacuum"
July 1969 Graduated from the University of Bucharest Faculty of Physics after majoring in Nuclear Physics and Optics, Spectroscopy, and Plasma Physics; graduation thesis: "Statistical fluctuations in nuclear reactions"
Specialization
main field:

Laser interactions; lasers and plasma physics; nanostructured thin films technology, nanopowders generation and characterization, surface physics and engineering, laser spectroscopy.
other fields:

Biophysics and biomedicine; nano- bio- technologies, gas- and bio- sensors, plasma and laser theory.

current research interests:

Pulsed laser deposition, modification and characterization of nanostructured thin coatings; matrix assisted pulsed laser evaporation (MAPLE); laser surface studies and processing; biomaterials thin layers; tissue engineering; biomimetic metallic implants; optoelectronics and sensors.
Foreign languages
English, French, Russian, Italian
Career/Employment
1990 to date: Senior research scientist 1-st degree, Institute of Atomic Physics
1990 to date: Professor, Faculty of Physics, University of Bucharest
1975 to date: Head of Laser-Surface- Plasma Interactions Laboratory
1975-1989: Research scientist, Institute of Physics and Technology of Radiation Devices, Central Institute of Physics, Bucharest
1969–1975: Physicist, Lasers Department, Institute of Atomic Physics, Bucharest
Thesis Supervision
36 PhD theses (see below) supervised since 1995; supervision of 8 others currently underway.
PhD theses supervised
Dan-Nicolae BECHERESCU (BARBU):

"Synthesis and investigation of thin layers obtained by High Power Pulsed Magnetron Sputtering and Pulsed Laser Deposition for development of metal-composite devices", Bucharest University, Romania,

July 6, 2017

Gianina Florentina Popescu-Pelin, '

Nanostructured thin films obtained by pulsed laser techniques: a correlated study of physico-chemical and biological performances', 2016.

Denis Negrea:

"Studies of nano-crystalline powders characterization by X-ray techniques",

Bucharest University, Romania,

November 20, 2015

Anita Visan, 'Nanostructured thin films synthesized by advanced laser techniques for rapid healing and tissue regeneration', 2015
Sorin Moga:

"Studies of thin films characterization using X-ray diffraction techniques",

Bucharest University, Romania,

November 20, 2015

Motoc Maria Marilena, "Biomaterials immobilization by laser techniques for therapeutical applications", 2014
Claudiu Sutan, "Oxide thin films synthesized by PLD for new applications in photocatalysis, highly efficient transparent media and biomedicine", 2014
Natalia Serban, "Polymers, calcium phosphates and bioglasses MAPLE thin film depositions: physico-chemical and biological characterizations", 2013
Catalin Ducu, "X-Ray Diffraction studies and complementary techniques on thin films and superficial layers for advanced technological applications", 2013
Liviu Marian Duta, "The synthesis by pulsed laser techniques of adherent and conductive nanostructured coatings of metalic oxides, bioglasses and calcium phosphates for biomedical applications", 2013
Andrei C. Popescu, "Laser deposition and characterization of transparent conductive, bioactive, hydrophobic and antiseptic nanostructures", 2012
Claudiu Fleaca, "The obtaining and characterization of oriented carbon nanotubes by CVD (chemical vapor deposition) methods, activated with laser, plasma and incandescent filaments", 2012
Elena Camelia Popescu, "Contributions in the field of the nanostructured films obtained by pulsed laser technologies for biosensors and drug delivery", 2011
Felix Sima, 'The synthesis of hybrid biomimetic nanostructures (calcium phosphates + proteins) by advanced laser techniques : structural, biochemical and biological characterization', 2011.
Gabriela Corina Dorcioman, "Synthesis of thin layers by pulsed laser technologies: very hard coatings (ZrC) and nanostructures (metallic oxides and polymers)", 2011
Marimona Miroiu, " Surface science studies in coherent, high intensity laser radiation regime: biomimetic calcium phosphate thin films for implantology applications" , 2011
Sorin Grigorescu, "Study of of nanostructured biomaterial thin layers synthesized by laser ablation for advanced biomimetic implants ", 2010
Emanuel Axente, "Laser-matter interactions in ns and fs regime:applications in the NP and TF synthesis and surface microprocessing", 2010
Diana Caiteanu, "Researches on pulsed laser deposition of nanostructured thin films for optical gas sensors and biomimetic coatings" 2010
Nicolaie Stefan, "Study of thin films obtained and modified by laser techniques for medical and metalurgical applications" 2009

Mihai Oane, "The thermal effects in laser-matter interaction", 2009
Ernest Popovici, "Contributions to the development of laser systems and processing systems for obtaining nanostructured powders", 2008
Daniela Stanoi, "Nanostructured coatings obtained by pulsed laser deposition for optoelectronics and spintronics applications ", 2007

Gabriel Socol, "Biomaterials thin films obtained by pulsed laser deposition method for a new generation of medical implants", 2006
Rodica Cristescu, "Laser material interactions: laser processing of polymer thin films for biomedical applications," 2005
Carmen Ristoscu, Synthesis, processing and characterization of thin films by high intensity laser radiation," 2003
Monica Iliescu, "Study of manganese and carbonate doped octocalcium phosphate and HA films obtained on titan by pulsed laser deposition (PLD)," 2003
Cristian Petre, "Contributions to the spatial and temporal controlled generation and propagation of laser radiation. Applications to the thermal treatment of materials surfaces," 2002
Valentin Nelea, "Growth and characterization of HA thin films obtained by pulsed laser deposition (PLD) method," 2002
Corneliu Ghica, "Study of thin films obtained by laser ablation: Manganese with colossal magnetoresistence: La0.6Y0.07Ca0.33MnO3-δ," 2000
Johnny Neamtu, "Interaction of laser radiation and substance in solid, liquid phase or/and plasma," 2000
Magdalena Ulmeanu, "Study of systems under irradiation treatment; thin films used as mirrors for soft X-ray fields," 1999
Eniko Gyorgy, "Synthesis, deposition, and characterization of thin films by laser radiation," July 1998
Stefan Amarande, "Beam quality anticipation for a gas-transport laser," July 1996
Aurel Andrei, "Researches on laser-irradiated surface physics," 1995
Andrei Barborica, "Corrugation of surfaces under laser irradiation," 1994
Sitting on Ph.D. thesis evaluation committees in: Romania (Institute of Atomic Physics, Bucharest; Physics Faculty, Bucharest; Babes Bolyai University of Cluj-Napoca; Ovidius University of Constanta), Ukraine (Institute of Surface Chemistry, National Academy of Science of Ukraine), Bulgaria (Institute of Electronics, Sofia; I

nstitute of Solid State Physics, Sofia

), France (Claude-Bernard University, Lyon; Department of Physics, Louis Pasteur University, Strasbourg), and Italy (University Bicocca Milano), (Department of Physics, University of Lecce), Republic of Moldova (Applied Physics Institute, Chisinau)
72 graduation and master theses supervised since 1973
Awards
1994 "Galileo Galilei" Award of the International Commission for Optics (ICO) "for outstanding contributions to the field of Optics"
1975 "Constantin Miculescu" Prize of the Romanian Academy for contributions to Laser Interactions Physics and Applications
Fellowships, working stages
Over 125 research stages abroad: Institute for the Physics and Chemistry of Materials of Strasbourg, France; National Institute of Applied Sciences (INSA), Strasbourg, France;

University of Mulhouse - Institute of Chemistry of Surfaces and Interfaces, France, University of Cergy Pontoise, France, University of Salento, Lecce, Italy; Institute of General Physics and A. M. Prokhorov Center for Natural Sciences of the Moscow's Academy of Sciences, Russia; Rensselaer Politehnic Institute, Dept. of Materials Science and Engineering, New York, S. U. A; Laboratory of Lasers, Plasmas, and Photonic Processing (LP3 CNRS) and Fresnel Institute, Marseille, France, GREMI Laboratories, Orleans, France; Institute of Electronic Structure and Laser of the Foundation for Research and Technology-Hellas (IESL-FORTH) Heraklion, Greece; Chemistry Department, University of Bolonia, Italy; Department of Energetics La Sapienza University of Rome, Italy; Physics Institute of Prague, Czech Republic; Department of Chemistry, Hebrew University of Jerusalem, Israel; Weizmann Institute of Science, Rehovot, Israel;

Institute

of Nanostructure Technologies and Analytics (INA), University of Kassel, Germany, National Hellenic Research Foundation, Heraklion, Greece; Department of Applied Physics and Optics, University of Barcelona, Spain, A. F. Ioffe Physical - Technical Institute Sankt Petersburg, Russia; Institute of theoretic Physics and Chemistry;Experimental Physics Dept. of University of Szeged, Hungary; Central Institute for Physics Research of Budapest, Hungary; University Bicocca of Milan, Italy; University of Nicosia, Cyprus; Electronics Institute and Solid State Physics Institute, Sofia, Bulgaria; Institute of Electrochemistry and Energy Systems, BAS, Sofia, Bulgaria, Holon Institute of Technology, Israel; Technology and Metallurgy Faculty, University of Belgrade, Physics Institute Zemun, Belgrade, Nuclear Sciences Institute of Vinca, Serbia; Inorganc Chemistry Institute, Riga, Latvia;

Optoelectronics

Research Center, Southampton University, UK,

Federal Polytechnic School of Lausanne, Suisse; Institute of Physics, Vilnius, Lithuania; J. Stefan Institute, Liubliana, Slovenia;. Physics Institute of the University of Zagreb, Croatia; Marmara University, School of Engineering, Industrial Engineering Department, Istanbul, Turkey, Palaiseau Polytechnic School, France
Invited Professor University Bicocca, Physics Department, Milano, Italy, 2008, University of Barcelona, Department of Physics and Applied Optics , Spain, 2000,GREMI/University of Orléans, France, 1991
Guest fellowship, CNR NATO, 1998
International Conference Organizing
Member of the Scientific Comitee,

5th Forum on New Materials, CIMTEC 2010, Montecatini Terme, Italy

Member of the Scientific Comitee of the ICO Topical Meeting on "Emerging Trends and Novel Materials in Photonics" Delphi , Greece, October, 7-9, 2009

Member of the Scientific Comitee of the International Symposium on Transparent Conductive Oxides TCO, Hersonission, Crete, Greece, October

22-26

, 2008

Co-director of NATO-Advanced Study Institute "Functionalized Nanoscale Materials, Devices, and Systems for chem.-bio Sensors, Photonics, and Energy Generation and Storage" Sinaia, Romania, June 4-15, 2007;
Committee member of International Conference Fundamentals of Laser Assisted Micro- and Nanotechnologies, June 25-28, 2007, St. Petersburg - Pushkin, Russia
Member of Organizing Committee of International Conferences on Photo-Excited Processes and Applications (ICPEPA), 2008, 2006, 2004
Committee member of 14 th International School on Solid State Physics, Varna, Bulgaria, 2006
Member in the Scientific Comitee of the 1st International Symposium on Transparent Conducting Oxides, Hersonissos, Crete, October 22-24, 2008, October 23-25, 2006
Committee member of International School on Lasers and Applications, Varna, Bulgaria 2004, 2002, 2000
EUREKA Workshop on Hydroxyapatite nanocomposite ceramics – new implant material for bone substitute, Bucuresti - Sinaia, January 16-18, 2006
International ROMOPTO Conferences, Bucharest, Romania, in 2006, 2003, 2000, 1997, 1994
Chairman of Workshop on Surface Physics and Engineering, co-organized by Physics Faculty, University of Bucharest, National Institute for Lasers, Plasma and Radiation Physics (NILPRP), Bucharest, Institute of Physics and Chemistry of Materials, Strasbourg (IPCMS), National Institute for Applied Sciences (NIAS), Strasbourg, France, yearly since 1994
Member of Organizing Committee of International Conferences on Advanced Laser Technologies: Prague, 1995, Constance, 1994; Prague, 1993; Moscow, 1992
Member of scientific program committee of Particle Beam Modification of Materials–EPM, Dresden, Germany in 1989 and 1987
International Symposium on Laser Spectroscopy– SLS in 1989 and 1986
Scientific secretary of the International Conferences on Trends in Quantum Electronics–TQE, Bucharest, Romania in 1988, 1985, 1982
Scientific secretary of 3rd International School on Coherent Optics-ISCO, Bucharest, 1982
Chairman of more than 65 sessions or panel discussions at various international meetings
Membership of Professional Societies
Optical Society of America since 1986
European Physical Society (Quantum Electronic Division) since 1984
Romanian Physical Society since 1983
International Society of Optical Engineering (SPIE) since 1983
International Journals/Contracts
Publications and patents
Books: 8 (2 in Romania, 6 abroad)
Papers in refereed journals: 314 in international regular journals; 224 in proceedings of international meetings
Communications to scientific meetings (international conferences, symposiums, workshops, schools): invited lectures: 73; oral contributions: 80; posters: 131; invited seminars: 30 in Romania, 117 abroad
Citations in international journals and books: 1666, average citations per item 5.26, h index 21 (october 2010, according to ISI Web of Knowledge, Web of Science )
Patents: 10 (8 in Romania, 2 abroad)
Management of international projects
Coordinator of participations in international contracts by the National Institute for Lasers, Plasma and Radiation Physics – INFLPR, Bucharest Romania:
247 EUREKA/10,10,2005-2009 Hydroxyapatite nanocomposite ceramics- new alternate materials and devices for osseous implants
MNT-07 - 012/08, Advanced nanocomposites based on hydroxyapatite for applications in medicine
ECO-NET -"Dépôts de phosphates de calcium silicatés à usage de biomatériaux" 2008-2009
NATO CLG 982793: "Nanocrystalline and amorphous thin films for sensor applications"; partners: Institute of Nanonostructures Technology and Analytics, University of Kassel, Germany, University of Chemical Technology and Metallu

rgy, Thin Films Technology Laboratory, Department of Physics, Sofia Bulgaria

DECHIR-CHAFILI-IB7320-111073/1: Deposition - Characterization - Irradiation of Chalcogenide Films for Lithography, 2005–2008; partners: Ecole Polytechnique Fédérale de Lausanne (EPFL), Switzerland; A. F. IOFFE Physico-Technical Institute, Russia
EUREKA (BIONANOCOMPOSIT E!3033) 37/2005: Hydroxyapatite nanocomposite ceramics – new implant material for bone substitute, 2005–2006; coordinator: University of Riga, Latvia
NANOPHOS IST-2001-39112: Nanostructured Photonic Sensors, 2002–2005; 14 partners; coordinator: National Hellenic Research Foundation, Athens, Greece
PHOREMOST INFSO-IST-511616: Nanophotonics to realize molecular-scale technologies; coordinator: Laboratorio Europeo di spettroscopie non-lineari, Italy
NATO PST.CLG 980464: Controlled thin film doping by two synchronized laser systems for nano-electronic applications, 2003–2004; coordinator: National Hellenic Research Foundation, Athens, Greece
NATO PST.CLG. 977325: Multiwavelength plasma investigations for applications in thin film deposition and processing, 2002–2003; coordinator: National Hellenic Research Foundation, Athens, Greece
FENIKS G5RD-CT-2001-00535: Ferromagnetic semiconductors and novel magnetic semiconductor heterostructures for improved knowledge on spintronics, 2001­–2005; 16 partners; coordinator: IMEC, Leuven, Belgium
SIMI G5RD-CT-2000-00423: Surface Improvement of Metal Implants: New Preparation Methods and New Materials, 2000–2004; 10 partners; coordinator: Université Louis Pasteur, Strasbourg, France
PHARE Contract RO9602-02-02-L024: Enhanced Free Running Laser Device for Surface Cleaning, 2000; other partners: Foundation for Research and Technology – Hellas, Institute of Electronic Structure and Laser (FORTH-IESL)
INCO-Copernicus IC15-CT98-0807: Inter-European pulsed laser deposition network for novel materials (INPULSNET), 1998–2000; 6 partners; coordinator: Foundation for Research and Technology – Hellas, Institute of Electronic Structure and Laser (FORTH-IESL)
International Atomic Energy Agency Contract no. 6642/R2/RB: Spectroscopic and transport studies of plasmas near material walls; Plasma interaction with wall materials; Laser and plasma surface studies, 1992–1996

Coordinator of INFLPR participation in bilateral agreements:
Ultrafast electronic and structural dynamics in thin films of charge density wave compounds, Romania - Slovenia Cooperation In Science and Technology 2008 - 2009

Nanostructured Thin Films Fabricated by Advanced Laser Techniques with Applications in Nanoelectronics, Spintronics, Biology and Medicine,

Bilateral Scientific and Technological Cooperation Between Cyprus and Romania

Réalisation par techniques laser avancées de structures multicouches biomimétiques pour la régénération des tissues minéralisés Scientific Collaboration Brancusi Program, ICSI-CNRS, Mulhouse, France, 14775SL, 2007-2008

Scientific Collaboration Brancusi Program, ICSI-CNRS, Mulhouse, France, 14775SL, 2007-2008

Mémoires tridimensionnelles a l'échelle nanométrique: stockage et lecture par des impulsions laser ultra-brèves, Scientific Collaboration Brancusi Program, LP3-CNRS, Marseille, France, 14813TE, 2007-2008

New biomimetic calcium phosphate coatings for metallic implants; theme 36, Program of scientific and technological cooperation between Italy and Romania, 2006-2008
Pulsed laser deposition of oxide thin films for gas sensing and optoelectronics applications, 2006–2008; partner: Institute of Electronics, Sofia, Bulgaria
Laser interactions for new advanced applications in medicine, biology, and/or opto(nano)-electronics, 2006–2008; partner: Natural Sciences Center of General Physics Institute, Russian Academy of Sciences, Moscow, Russia
Laser produced plasma: spectroscopic diagnostics and applications in thin films deposition and characterizations, 2006-2008, Serbian Academy Of Sciences and arts and Physics Institute of Belgrade, Serbia.
Micro- and nano-patterned surfaces and magnetic nanoparticles as a new generation in biomaterials, 2006–2007; partner: Institute of Solid State Physics, Bulgarian Academy of Sciences, Sofia, Bulgaria
Thin films obtained by pulsed laser deposition and matrix assisted pulsed laser evaporation, 2005-2007; partner: Institute of Physics, Academy of Sciences of the Czech Republic, Czech Republic
Thin films and structures for medical, chemical and biological applications, 2005–2007; 2003–2005; partner: Hebrew University of Jerusalem, Israeli Academy of Sciences and Humanism, Israel
Optical, magnetic and electrical properties of nanostructured layers obtained by PLD for new applications in sensing, waveguides, spintronics and advanced electrical measurements, 2004–2007; partner: Institute of Solid State Physics, Bulgarian Academy of Sciences, Sofia, Bulgaria
Bilateral Agreement, 2003–2006, SOCRATES Program: for Higher Education (ERASMUS); partners: Institute of Physics and Chemistry of Materials, Strasbourg, France; National Institute for Applied Sciences (NIAS), Strasbourg, France
Artificial structures with magnetic, optical and mechanical properties obtained by reactive pulsed laser deposition (RPLD), CNRS Contract, 1998–2006; partners: Institute of Physics and Chemistry of Materials, Strasbourg, France; National Institute for Applied Sciences (NIAS), Strasbourg, France
Pulsed laser deposition of optical and magnetic thin films, 2003-2005; partner: Institute of Electronics, Sofia, Bulgaria
Laser deposition of thin oxide films for optoelectronic devices, 2004; partner: Department of Physics, University of Lecce, Italy
Material processing by pulsed laser ablation: plasma diagnostics and theoretical modeling, 2002–2004; partner: Laboratory of Lasers, Plasmas and Photonics, Mediterranean University (Aix-Marseille II), Marseille, France
Pulsed laser deposition of thin films, 2002–2004; partner: Institute of Physics, Academy of Sciences of the Czech Republic, Czech Republic
Electrophysical and optical properties of CNx-Si, WCx-Si, AlNx-Si, SiCx-Si and BNx-Si heterostructures, 2001–2004; partner: Institute of Solid State Physics, Bulgarian Academy of Sciences, Sofia, Bulgaria
Pulsed laser deposition of thin oxide films, 2000–2003; partner: Institute of Electronics, Sofia, Bulgaria
Surface laser modification of metal/ceramic thin films materials for microelectronics and sensor techniques, 2000–2003; partner: J. Malinowski Central Laboratory of Photoprocesses, Bulgarian Academy of Sciences, Sofia, Bulgaria;
Pulsed laser deposition and processing of thin films, 2000–2002; partner: Department of Experimental Physics, University of Szeged, Hungary;
Cooperation Project, 2000; partner: University of Orléans, France;
Thin film and multilayer systems diagnostics and technology, 1999–2002; partner: Institute of Physics, Slovak Academy of Sciences, Slovakia
Management of national projects
Contracts under the National Program for Research, Development, and Innovation
32-168, 2008 LOTUS, Superhydrophobe breathing nanostructures
71-038-TIMAT AUTO, Novel technologies for metallic materials surface properties enhancement, for automotive production
71-031- Performant ceramic nanocomposites for a new generation of combustion cells with solid electrode of medium temperature

22-079-PEMREFACET: Inovative system of electrical energy production using PEM typecombustion piles at high temperatures, nourished by hydrogen produced by acetic acid reformation
71-110 BIOSTIMP- Cranio spinal implants biointegration by bioactive multilayer coatings
CERES 4-95/4.11.2004: Optical thin films for active planar waveguides, 2004–2006
CERES 4-178/15.11.2004: Biopolymer nanostructured coatings obtained by matrix assisted pulsed laser evaporation with applications in pharmaceutical industry, 2004– 2006
CERES 4-142/12.11.2004, Hamiltonian dynamics of confined ions in electromagnetic fields: Applications of non-linear Paul traps for quantum calculators, 2004–2006
CERES 4-17/2004: Photo-sensitivity study of nano-crystalline semiconductor electrodes with organic and biological materials: applications to enhancing the photovoltaic and photo-electrochemical cells performances, 2004–2006
CERES 3-124/2003: Calcium Phosphates multi-layers as bioactive coatings for bone implants, 2003–2006
CERES 3-117/2003: Luminescence processes in unordered oxides structures for tri-dimensional memories, 2003–2006
CERES 138/15.10.2001: Synthesis, characterization and applications of AlN, BN, and SiC thin layers obtained by pulsed laser deposition and reactive pulsed laser deposition, respectively, 2001–2004
CERES 137/15.10.2001: Experimental and theoretical studies on the obtaining of bioactive ceramic coatings by laser and plasma technologies, 2001–2003
VIASAN sub-program

Contract 332/2004: New methods for bioactivity and bio-functionality implants enhancement
Contracts under the Center of Excellence Program
CEEX-06-D11-37: Study of the quantum logics and of the quantum metrology by using electromagnetic traps. Applications in high resolution spectroscopy and environment pollution monitoring ELECTROCUANT
CEEX 307/06 Integrated technological network for biocompatible/bioactive glass powders and nanostructured thin films RETEBIOGLASS
Research and services network for the synthesis nanostructures applications in advanced products in textile industry, protective coatings and environmental protection SINAPS ROMAT
CEEX 60/2006: Targeted drug delivery by functionalized nanostructures processed by advanced pulsed laser techniques MEDINANOLAS
Amorphous nanostructures for smart memory/data storage devices NAMI
CEEX 53/2006: Nanostructured optical sensors for advanced gas detection SONDAG
Molecular mechanisms of osteoblasts adhesión differenced from STEM cells and bone tissue explants from orthopaedic biomaterials OSTEOSTEM
CEEX 05-D11-55/2005: Nonlinear structures and scalability limits for quantum logics in ions traps, 2005– 2008
CEEX 05-D11-32/2005: Magnetism of clusters in interaction: fundamental processes and applications
Matnantech 42/2005: Integrated research network of NANOMEDICINE (nano-biotehnology for health)
Contract 46/2005: Integrated technological network for research of biocompatible advanced structures for dental implants
CEEX 05-D11/2005: Amorphous nanostructured chalcogenic materials for sensors and optoelectronics
CE 8/2003: Romanian Center of Excellence in Photonics, 2003–2005
ORIZONT 2000 National Program, 1990–2001
A.21: Synthesis by pulsed laser deposition in reactive atmospheres of thin layers of very hard ceramic materials with high mechanical and chemical resistance
A.36: Synthesis and deposition of Silicon Carbide thin films by reactive laser ablation
A.37: Obtaining of an apparatus by coupling an electron microscope with laser systems for in-situ studying of compositional, structural and morphological changes produced by laser irradiation
B.4: Pulsed laser deposition of advanced materials: application for thin films from ferroelectric materials
Lasers and Applications National Contract, 1975–1990: various research themes on laser interactions